Educating the youth of today about the power of the Seventh Resource is a top global priority – and one that we are championing for Global Recycling Day.
There are two ways we involved the youth in this year's campaign:
Utilising the global language of football, and sport, to unite the youth of today across the world in our movement
Through providing materials for education professionals to use in schools and clubs around Global Recycling Day on the 18 March
#RecyclingGoals Challenge
Our vision is to connect the strong example the football industry sets for recycling, with the inspirational support of players, from next generation to today's footballing heroes, to reach young people across the world, helping influence behaviour change. In short, we are harnessing the power of football to inspire long term recycling habits in young people across the world.
#RecyclingGoals is a social media movement, which will run in the lead up to Global Recycling Day. And we are asking all social media users to take part!
All you need to do is take a video of yourself scoring a "Top Bins" goal (in a recycling bin in the top corner of the goal or just scoring into the top corners of a normal goal) whilst pledging to make a long term commitment to better recycling practices e.g. "I pledge to recycle all my plastic drinking bottles from today and I nominate John Smith to take the #RecyclingGoals challenge".
We then ask you to share your video online via your social channels using #RecyclingGoals. Look out on the Global Recycling Day social feeds as we will be reposting our favourite contributions.
To see how you can take part, check out our handy graphic here: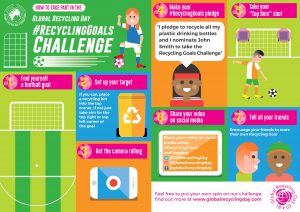 Alongside this, we will also be asking for similar recycling pledges from football clubs and players from around the world, from next generation up and coming stars of the future, to today's footballing heroes.
Education Materials
To celebrate Global Recycling Day in your school or youth club, we've put together a guide of materials and activities for education professionals to use on the day. Materials include:
A lesson plan on 'Amazing things made out of recycled goods' (including games and activities)
A fact sheet on 'Fun and not so fun facts about recycling'
A Global Recycling Day poster for classrooms
Our recycling citizen graphic
You can find the materials in the below links: