Blending future-facing ecological conscience with craftsmanship – how BOTTLETOP is leading the way in fashion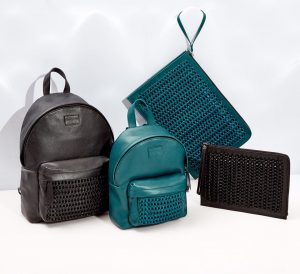 BOTTLETOP launched in 2002 through a design collaboration with Mulberry. At the heart of the campaign was the first luxury bag made entirely from up-cycled materials to be launched globally at retail; a best selling handbag made from bottle tops in Kenya, lined with Mulberry leather off-cuts
in the UK.
BOTTLETOP went on to establish an atelier in Salvador, Brazil, where it has developed its collection of bags and accessories featuring custom production techniques and its sustainably sourced signature materials; up-cycled metal and certified zero deforestation leather from the Amazon. BOTTLETOP also produces an 'art on canvas' collection in Kenya; providing the basis for hand screen printed design collaborations with leading contemporary artists including Idris Khan and Wangechi Mutu on East African farmed cotton canvas.
BOTTLETOP and Narciso Rodriguez were awarded the Green Carpet Challenge (GCC) brandmark by Eco Age in 2014 for their design collaboration. They collaborated with DKNY in 2015 and the Rio Olympics in 2016 designing costumes for the Opening Ceremony. BOTTLETOP is also the official bag partner to BAFTA in 2018 (and previously in 2017).
The sale of BOTTLETOP designs fund the operation of the BOTTLETOP FOUNDATION, which supports health education projects in Ethiopia, Kenya, Zimbabwe, Brazil and the UK.
On December 5th 2017, BOTTLETOP launched its first flagship store at 84 Regent Street. The boutique re-imagines the future of ecologically responsible construction through zero waste design. The most advanced KUKA robots printed the store interior using REFLOW filament, which is made entirely from plastic waste. The raw material undergoes a process of washing, shredding and extrusion to transform into up-cycled filament.
The 3D printed store concept is a world-first in retail and contributes to a broader positive ecosystem, in line with the values upon which the BOTTLETOP brand and collection are based; those of sustainable luxury, ethical design, technical innovation and cross-cultural collaboration.
Speaking about the new store design, BOTTLETOP Co-Founder Oliver Wayman said: "For the first time, visitors to our store will be able to witness the sustainable use of this technology first hand while shopping the BOTTLETOP collection and learning about the mission of the brand. This is so exciting for us as our customers can watch the transformation of the store. Overhead hangs our trademark metal canopy, with thousands of cans embedded into a 3D printed lattice structure suspended from the ceiling, which is a play on the concept of negative space, inspired by the British contemporary artist Rachel Whiteread."
Wayman continued: "The store offers an inspiring immersive experience that blends future-facing ecological conscience with time-honoured craftwork, through which our customers can truly learn about BOTTLETOP's award winning collection and our vision for the future."
The design creates the perfect backdrop for the BOTTLETOP collection, which features intricate hand craftsmanship in signature materials including up-cycled metal and Amazon zero deforestation leather.