Of the earth's natural resources, we tend to think of six as the most important – water, air, oil, natural gas, coal and minerals. These resources represent the foundation of our very existence. All our food, all our sustenance, all our belongings ultimately come from these six elements. Today, humanity can't survive without them.
However, these resources are finite and rapidly running out. Once they're gone, they're gone forever. We are carelessly using the earth's natural resources without thinking about what will replace them, while billions of tons of waste pour into landfill sites every year.
The simple solution to this is recycling – the 'Seventh Resource', which can be used again and again. Recycling helps to:
Combat climate change
• Each and every year, the Seventh Resource (recyclables) saves over 700 million tonnes in CO2 emissions
• The Seventh Resource offsets all CO2 emissions generated by the aviation industry annually
Boosts local employment around the world
• Approximately 1.6 million people worldwide are employed in processing recyclables
• The annual contribution of the recycling industry towards the global GDP is projected to exceed $400 billion in the next 10 years
• $20 million dollars is invested each year by the industry into job creation, improving recycling efficiency and environmental impact.
Conserve the earth's six precious primary resources
• Humans have consumed more resources in the last 50 years than in all previous history
• The Seventh Resource (recycled materials) supplies 40% of the world's raw material needs
*Based on a study conducted by the Bureau of International Recycling
For more information check out our Recycling: The Seventh Resource Manifesto, which sets out our vision for the Seventh Resource: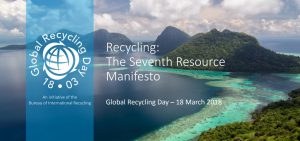 In September of 2018, the Bureau of International Recycling and the United Nations Industrial Development Organization stepped up efforts to have Global Recycling Day recognized as an official United Nations day.
In a side event organized by BIR during the 11th meeting of the Open-ended Working Group of the Basel Convention (OEWG) in Geneva, BIR and UNIDO emphasized the need to celebrate the importance recycling plays in preserving our precious primary resources. It was at this event that a Memorandum of Understanding was signed between the two organizations, joining forces to drive home the importance of recycling.
"We are delighted to be working with UNIDO in our efforts to have Global Recycling Day recognized as an official UN day," said Founding President of the Global Recycling Foundation Ranjit S. Baxi. "We are determined, in collaboration with UNIDO, to build on the momentum we've sparked since launching Global Recycling Day in March".
Speaking at the side event were also Frank Van Rompaey, Head of UNIDO's Geneva office, and Katharina Kummer Peiry of Kummer EcoConsult and former Executive Secretary of the Basel Convention.