The flags were out for Global Recycling Day at the BMR 8th International Conference in Dubai
Mr Ranjit S. Baxi, Founding President of the Global Recycling Foundation and President of BIR, delivered a keynote speech about the Foundation and the second Global Recycling Day on 18th March, at a major recycling conference in Dubai on 10th March 2019.  His speech focused on the unique nature of the recycling industry, and the immense contribution it makes at social, economic and environmental levels, as well as its crucial role in supporting inclusive sustainability as laid out in the United Nations Sustainable Development Goals 2030.
As he said to delegates: "Our contributions are invaluable and this must to be shared globally."
Mr Baxi was enthusiastically welcomed by the Bureau of Middle East Recycling's (BMR) audience, who were waving Global Recycling Day flags and sporting branded baseball caps. His speech demonstrated how important Global Recycling Day is across the Middle East – and the world.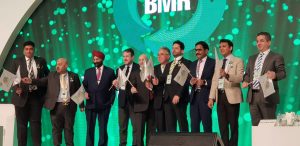 "It is great to see Global Recycling Day so warmly welcomed by our colleagues in the Middle East," said Mr Baxi.  "BRM is, for the second year running, really making the 18th March a day to remember in the recycling calendar.  We thank them for all their support and look forward to working with them well into the future."