On 18th March 2019, the second annual Global Recycling Day took place, uniting industry professionals, businesses and consumers behind the common cause of celebrating the positive impact that recycling can have on the future of the planet.
For us, behaviour change around recycling starts with wide reception of our 'resource not waste' message and, at this stage in our evolution, we were blown away with the support we received, both on and offline – globally. This year our numbers rose from 13 million people having a chance to hear about Global Recycling Day to over 600 million.
We celebrated at at least 25 events (15 of which were official) take place across the world: Brussels, Delhi, Mumbai, Uttar Pradesh, Dubai, Middleburg, Lagos, Belfast, Rotherham, London, Paris, Sao Paolo, Washing DC, Seattle, Gujarat, Jaipur, Port of Spain, Constantina, Aberdeen, Sarajevo, Mongolia, Nepal, Beirut, Peshawar, and Essex.
We saw 277 media hits in 23 countries with a reach of 687,310,649 and achieved 19,413,501 impressions on social media.
This year, our theme was 'Recycling Into The Future' and a key activity within this theme was our #RecyclingGoals Challenge. The resulting videos were viewed over 125,000 times and participants included school children in South Africa, business leaders and sports personalities such as horse racing hero Sir AP McCoy.
And that's not where the big names stop. A host of brands including Nestlé, Veolia, PepsiCo and Terracycle chose GRD 2019 to launch their new recycling campaigns/recycled products, and we received brand engagement from Walkers, Coca Cola, BBC, Defra, L'Oreal, Suez and Peppa Pig, to name but a few.
Thank you for your support this year and we look forward to bringing you news on Global Recycling Day 2020 soon.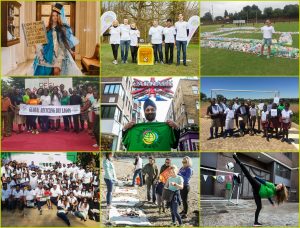 "As members of BIR, the British Metals Recycling Association (BMRA) was delighted to support GRD. It is an excellent initiative to raise awareness about recycling and gives us the opportunity to further promote metal recycling's contribution to the circular economy. The 'Recycling Goals' theme created a social media buzz, with recyclers, the public and a few famous faces, sharing what they would be doing. The BMRA used the day to create our own initiative, 'Support your local yard, support your local community'."  Susie Burrage, President BMRA
"What better way to promote recycling to everyone – from the individual to the business sector and to governments – than creating a day specifically focused on recycling, and thereby also creating awareness of the seventh resource." Isle Botha, coordinator of South Africa country event
"Collaborative efforts, like Global Recycling Day are how change begins to unify solutions of all kinds. These celebrations will be the ripples that will lead us into the path of ending global pollution. Our actions no longer can just be discussions, our actions must be our first step."  Mandi Thorne, activist and coordinator of Seattle event.